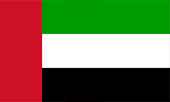 United Arab Emirates (UAE) – Middle Eastern country, which in the southeast part of the country's shores surround of Oman and the Persian Gulf. East UAE is bordered to the north of Oman, south and west – with Saudi Arabia, and north-west – with Qatar. UAE capital city is Abu Dhabi. It is a modern and richest city in the Gulf, built in the desert-island.
Emirates' Union, founded in 1971 12 02, consists of 7 Emirates: Abu Dhabi, Dubai, Shajah, Ajma, Ras Al Khaimah, Umm Al Quwain and Fujairah. Each emirate has its own government, municipalities and departments. Each of them is headed by a separate Emirates Sheikh.
UAE are members of the UN (since 1971), Organization of Petroleum Exporting Countries (OPEK), the International Monetary Fund, World Trade Organization, as well as the Arabian Gulf Cooperation Council (AGCC). UAE have signed a general agreement on tariffs and business (GATT). The United Arab Emirates has over 20 free zones. The oldest and most famous of them is the Jebel Ali Free Zone in Dubai and Ras Al Khaimah.
United Arab Emirates is one of the most attractive country for business. Otherwise, the country is called a "paradise island of tax".
UAE Federal law Nr.9, 1975 regulates accountants and auditors authorization. There is no local authority professional accountants, but the number of major international financial firms have chambers in UAE. According to 1988. Federal Law No 13, companies must keep financial records, but the current government bill does not specify this accounting procedure. There is a complete system of government ordinances to ensure that the business in UAE is developed in fair and orderly manner. There are laws governing commercial transactions, intellectual property, labor, and other business aspects of the life.