Company Express (UK) Limited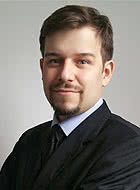 Alexey Mitronin
Managing director
With 6 years of experience in company formation field, Alexey is an experienced professional with a wide range of contacts in the finance industry.
London remains the pre-eminent financial centre in the world, despite rival claims from such great cities as New York and Tokyo. Its position in the business world is underpinned by a business-led tax and accounting regime that permits considerable flexibility for all types of business as well as a stable political and economic environment in which to operate. Its historic role as a hub of world commerce continues and provides ready access for the businessman to a staggering variety of expertise and skills upon which to base his or her future business growth.
At Company Express in London we have the Group's most experienced practitioners who can bring together the city's varied opportunities and advise on how to exploit them when establishing a base, whether in the UK or offshore, be it for domestic or international business.
3rd Floor, 94 Leonard Street, London, EC2A 4RH, United Kingdom
Company number: 01862622
Registered: In England and Wales
Phone: +44 20 7033 3735
WhatsApp, Viber, Skype: +44 73 7587 3844
Fax: +44 20 7636 9617
E-mail: enquiries@com-exp.com
www.company-express.com
Languages spoken: English, Russian, Greek.